While at Soi Dog I made it my duty to further research the Asian dog meat trade and I was utterly appalled with what I discovered. I had absolutely no idea that the farming, torture and eating of dogs (and cats) was so prevalent. In England I run a creative agency and, upon my return, I vowed to do my part to fight the ghastly dog meat trade in Asia. The Stop Eating Dogs campaign is my solution.
We all know that dogs are man's best friend, but how many of us know about the horrific abuse these beautiful animals suffer in Asia? There are an estimated 174 million dog owners in Europe and North America alone and between us we really can do something extraordinary about this unimaginably cruel practice.
If you want to contact me you can do so on
kimba@StopEatingDogs.com
. Please bear with me if I do not reply immediately, it will only be because my in-box is over flowing!
Thank you for your support.
Guy Wrench
Founder. Stop Eating Dogs Ltd.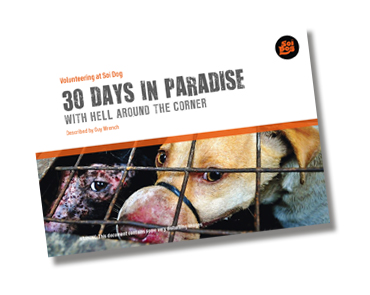 30 DAYS IN PARADISE with hell around the corner
click here to read my Soi Dog blog
Sign up now >>