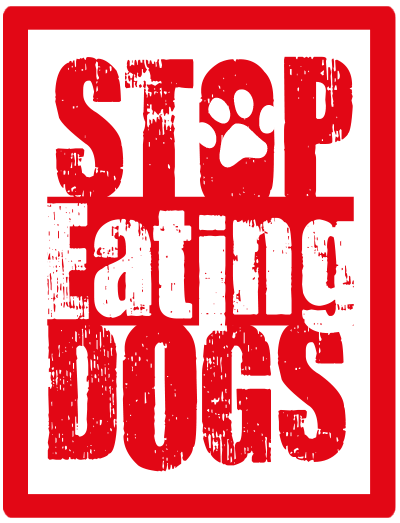 THE VERY IDEA OF TORTURING, K
ILLING AND EATING DOGS AND CATS IS INCOMPREHENSIBLE TO MOST OF US BUT, IN MANY PARTS OF ASIA, THIS HAPPENS EVERY DAY OF THE YEAR
Tragically, an estimated 80,000 dogs and cats are killed every single day across Asia in the unimaginably cruel dog meat trade. We are bringing this to the attention of the world with a series of STOP EATING DOGS banners, for which we need your help. Please add your dog (or cat) to our campaign banners by
downloading a photo to this website now. Your family pet
will then join thousands of others in a series of dramatic STOP EATING DOGS banners which will be used around the world to highlight the horrific cruelty of the dog and cat meat trade. We are also asking for a small
donation of £5 (more if you prefer) which will be sent to our partners in Asia to
fund urgently needed animal welfare programmes and to lobby governments. Some countries in Asia have already banned the dog meat trade and, earlier this year, China reclassified dogs as "companion animals" although it is too early to say how effectively this law will be implemented. But is is a start.
All participants will receive a Campaign Hero certificate and the knowledge that they have acted.
You might think that one person cannot make a difference
, but together we can. Together we are ALREADY saving dogs and cats lives. Thank you.
NOW AVAILABLE DOGS ARE MANS' BEST FRIEND / DOGS ARE NOT FOOD t-shirts (see below)