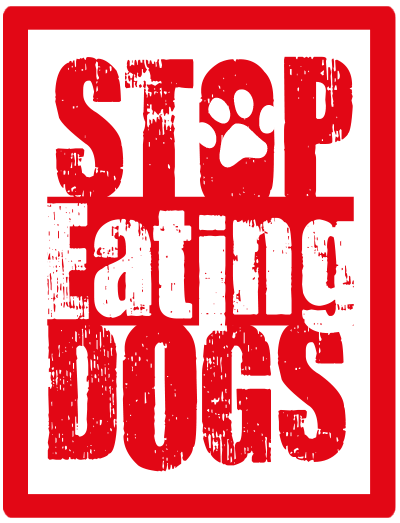 PLEASE ADD
YOUR DOG TO THE WORLD'S LARGEST
STOP EATING DOGS
BANNER AND HELP US SHUT DOWN THE EVIL DOG MEAT TRADE
Why? An estimated 80,000 dogs are dying every single day across Asia in the unimaginably cruel dog meat trade. We are bringing this horror story to the attention of the world with a series to STOP EATING DOGS banners. To do this we need more dogs, so we are asking ALL
dog (and cat) owners to download photos of their pets on this website. These
photos will feature with thousands of others in a series of dramatic STOP EATING DOGS banners which will be used around the world to highlight the appalling cruelty of the dog and cat meat trade. We are asking for a small
donation of £5 (more if you prefer) which will be used by our partners in Asia to
fund urgently needed animal welfare programmes. All participants will receive a wonderful Campaign Hero certificate featuring their dog or cat.
You might think that one person and one small donation cannot make a difference
, but it really can. Indeed the more who participate, the more lives we will save...
NOW AVAILABLE DOGS ARE MANS' BEST FRIEND / DOGS ARE NOT FOOD t-shirts (see below)